PROUD TO BE SAFE
Health, Safety and Environment
At Catch we consider Health, Safety and Environment an important part of our tasks. We evaluate, hold meetings and adjust our HSE policies on a regular basis. To ensure a safe way of working we periodically have inspections at our workshop. We also want to be environmentally friendly and restrict environmental damage as much as possible. Management instructs and trains personnel to always work in a safe and environmentally friendly manner.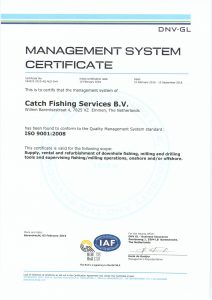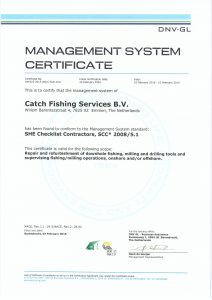 Means and materials
Catch have a wide scope of professional and specialized tools and services available for our customers. Because of safety we make sure these tools are inspected periodically and meet all the required regulations. As a result we have made name as a reliable and trustworthy company. In addition to having safe equipment, we also make sure our personnel have a safe workplace available for them. Therefor all electrical equipment and materials are selected according to functionality and price/quality ratio. But most important, we also look to make sure it complies with the Arbo-decree. The Arbo-decree is a detailing of the Dutch Health & Safety at Work legislation.
Quality Assessment

Catch Fishing is always looking to improve, remain customer orientated and ensure a high quality of products & services. Therefor we work with a Quality Assessment system which helps us to master and monitor our work processes. As a result we are able to evaluate and adjust these processes when necessary so we can improve our workflow. Furthermore, by identifying and keeping track our processes we can always guarantee that we deliver the best service possible for our customers.
Satisfied, when you are
Satisfied customers is what drives us to work hard every day and what makes us love what we do. They are the reason why we go to work with a smile on our face everyday. If our customers are happy, we are happy. So to make sure, we measure and monitor if they are. Collected data is used to see where our customers think we should improve. Because if we improve where they want us to improve, they become a happier customer. We aim for a stable client appreciation and are only satisfied if our customers are.